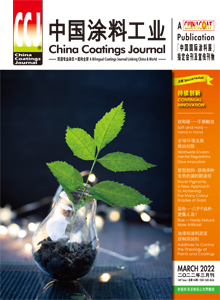 CURRENT ISSUE
March 2022
PUBLICATION DATE
March 15, 2022
Content
Editor's Note
The Marvels of Gold and Blue Pigments
— Prof. Long Lin
I hope that, amidst rising Covid infections across the globe in both 'zero tolerance' and 'zero restriction' countries, this issue of China Coatings Journal brings readers some comfort. Indeed, readers will find that this issue presents a few very interesting papers and reports.
Radiation Curing
Soft and Hard – Hand in Hand
— Nikolaus Manolikakes, Reiner Mehnert, Rolf Schubert, IOT Leipzig, Germany
UV-cured soft-touch-coatings which are scratch and chemical resistant can be generated via process steps of UVprecuring, excimer-irradiation and UV-final curing.
Continual Innovation
Worldwide Environmental Regulations Drive Innovation
— Sally Yick, Managing Editor, China Coatings Journal
Technological innovation is an important driving force and decisive factor for long-term economic development of an enterprise. Environmental regulations and green innovation have a significant positive effect on intelligent upgrading of manufacturing enterprises. On the other hand, environmental regulations drive demand and contribute to the differentiation among products.
Pigments
Novel Pigments, a New Approach to Achieving the Many Colour Shades of Gold
— Dr. Adalbert Huber, Schlenk Metallic Pigments GmbH, Roth, Germany; Kelly Huang, Schlenk Metallic Pigments (Shanghai) Co., Ltd.
Gold has fascinated people down through the centuries because of its unique appearance. The yellowish metal possesses high hiding power, high gloss, and extreme light-dark flop, even when present in very thin layers. With the help of admixtures of copper and silver, different colour impressions can be achieved
Blue – Hardly Natural, More Artificial!
— Werner Rudolf Cramer, Germany
Anyone who has ever taken a look at the cave and rock paintings in Huashan on Hua Mountain (Huāshān yánhuà 花山岩畫) in China, in Altamira in Spain or, for example, in the Cueva de las Manos in Argentina, will see the many pictures painted with red, yellow and black colours (pigments). To paint these pictures, people used pigments that they found in their surroundings. These were mainly yellow ochre, red ochre or charcoal.
Additives Update
Additives to Control the Rheology of Paints and Coatings
— Leo Procopio, Ph.D., Paintology Coatings Research LLC, USA
Formulating paints and coatings to provide just the right balance of properties is a complex undertaking. Getting the rheology profile correct is just one important task on the formulator 's to-do list, but it is crucial to the ultimate success of the coating.
Regular Columns
Product Literature
Industry News
Global Trade Shows, Conferences & Forums
Advertisers' Index