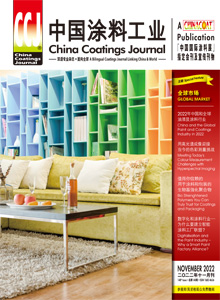 CURRENT ISSUE
November 2022
PUBLICATION DATE
November 15, 2022
Content
Editor's Note
Boosting Coatings Technology with Digital Technology
— Prof. Long Lin
For a long time, I have been interested in technologies that enable a closer match between the colourimeter measurement values and visual assessment results of highly textured materials, especially three-dimensional objects.
Market Insight
China and the Global Paint and Coatings Industry in 2022
— George R. Pilcher, Vice President, The ChemQuest Group, Inc., USA
This article reviews China and the global paint and coatings industry in 2022 in respect to inflation, material shortages, high crude oil prices, transportation problems, labour shortages and cash flow issues.
Measurement and Testing of Coatings
Meeting Today's Colour Measurement Challenges with Hyperspectral Imaging
— Matt Adby, Product Management Director, Consumer Products & Materials, X-Rite Incorporated
Whether it's retail or industrial paint and coating applications, accurate and consistent colour is critical. Depending on the substrate, texture, shape, and special effects used to enhance a product's appearance, it can be challenging to match, formulate, and accurately produce colour that meets customer requirements.
High Performance Coatings
Bio Strenghtened Polymers You Can Truly Trust for Coatings and Packaging
— Gabriele Costa, Global Product Manager, Lamberti, Italy; Keith Chan, Business Manager, Lamberti, Italy
Surfaces are boundaries exposed to external agents that, in some cases, can be extremely harsh and challenging; they are also the gateways through which we perceive the objects we use in our everyday life! Whether it is aesthetic appearance, durability, corrosion protection or barrier properties, the right treatment on surfaces can boost these characteristics.
Pigments
Differences between the Grinding Processes of TiO2 Pigments in Glossy Acrylic Paints (Part 1)
— Artur Palasz, Spektrochem – Formulation & Raw Materials Laboratory for Architectural Paints, Poland
Extensive results of laboratory tests of samples of waterbased paints based on 100% acrylic polymer dispersion with low PVC, prepared using a slurry with rutile type of titanium dioxide prepared by grinding in a bead mill, cowles of the grinding process dissolver and homogeniser, were presented.
Digitalisation
Digitalisation and the Paint Industry – Why a Smart Paint Factory Alliance?
— Dr. Ulf Stalmach, Key Account Manager, ORONTEC GmbH & Co. KG, Germany
The common process of today's paint production is a push process, batchwise and following the "guideline" that a correction of colour and properties is needed after producing the first load. ORONTEC's view of a future process is a contradiction of this status.
Regular Columns
Advertisers' Index