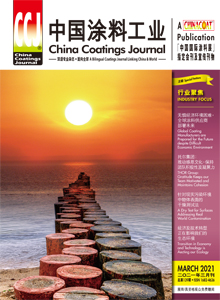 CURRENT ISSUE
March 2021
PUBLICATION DATE
March 15, 2021
Content
Editor's Note
Post-Pandemic Era
— Prof. Long Lin
The financial disasters brought about by the pandemic have been felt by all countries. What lie ahead in the post-pandemic era for inks and coatings and related industries? Whilst no prediction can cater for all eventualities, pictures of some aspects are clearer.
Market Watch
Global Coating Manufacturers are Prepared for the Future despite Difficult Economic Environment
— Sally Yick, Managing Editor, China Coatings Journal
The global paints and coatings market value is forecasted to reach US$204.83 billion in 2023, growing at a CAGR of 4.92%, for the period spanning from 2018 to 2023, according to a report released by ResearchAndMarkets. Factors such as escalating construction expenditure, growing automotive industry, increasing urban population, rising household consumption expenditure and improving economic conditions are expected to drive the market growth. However, the growth of the industry would be challenged by increasing raw material prices and stringent regulations.
Insider View
THOR Group: Gratitude Keeps our Team Motivated and Maintains Cohesion
— Sally Yick, Managing Editor, China Coatings Journal
The THOR Group was established in 1959 with its headquarters based in U.K., R&D centre located in Germany and France. THOR's activities focus on the production and supply of a wide range of biocides, flame retardants etc. CCJ was honoured to visit THOR during CHINACOAT2020 Guangzhou in December and had a chance to talk with Dr. Zheng Qinglin, Chief Operating Officier (Asia Pacific) and MD of THOR Great China.
Testing
A Dry Test for Surfaces Addressing Real World Contamination
— Joydeep Lahiri, Division Vice President and Program Director, Corning Incorporated
The rise of deadly viruses and antibiotic resistant strains of bacteria are currently of paramount concern in human health. The SARS-CoV-2 pandemic demonstrated how rapidly an unchecked and highly contagious virus can change life as we know it. While the primary means of transmission for that particular virus is thought to be air contamination via droplets, the China CDC and the US Center for Disease Control have both indicated that surfaces also pose a threat for transmission.
Industry Focus
The Shows Closed with Reasonable Results in a Year Full of Uncertainties
CHINACOAT2020, the 25th edition of its series, concluded on a reasonable note on December 10 at Area A of the China Import and Export Fair Complex (CIEFC) in Guangzhou, P.R. China. During such unprecedented time, as well as facing lots of uncertainties and challenging environment this year, CHINACOAT continued to receive support from both buyers and suppliers, and still managed to put together a sizable exhibition, further proving CHINACOAT is a business platform for the industry.
Sustainable Solutions
Transition in Economy and Technology is A­ffecting our Ecology
— Huzaifa Matawala, Paint Recyclist, Regent Paints Inc., USA
Innovation supersedes all challenges to become an invention or discovery. If suppressed, it still emerges as a possibility somewhere. But if oppressed, blocked, and deprived, it's never shy of creating itself, into a massive wave of the Revolution.
Regular Columns
Industry News
AkzoNobel supplying powder coatings for landmark water pipeline in China
Performance Materials is now Electronics: Merck renames business sector following strategic realignment
Product Literature
Union Process develops attritor for inks and coatings supplier
Dupont Clean Technologies brings new MECS® catalysts to the market
SPHERILEX® DP-0115: new matting agent for powder coatings from Evonik
Body Guardz introduces use of InvisiPrint MBED dual function coating
Clariant launches natural VOC-trapping DESVOCANT adsorbents for packaging and cargo shipments
Advertisers' Index