2021 Show Switched to Online Edition Only — Exhibitors & Visitors Continued to Interact with the Industry
CHINACOAT2021 physical edition was originally scheduled to be held from 16th to 18th November 2021 at Shanghai, P.R. China. To cope with requirements from the Shanghai Government on epidemic prevention and control at that time, and to safeguard the health and safety of Exhibitors and Visitors, the Organizers had to cancel the physical edition.
To continue to serve the industry, the Organizers launched 2021 Online Show from 15th December 2021 to 15th March 2022. All 879 Physical Show Exhibitors formed part of the Online Show, together with 24 exhibitors who exhibited only virtually as Virtual Exhibitors. Visitors made use of interactive functions such as Exhibitors' Live Broadcasts, Technical Webinars, Video Meeting, Product Search, Business Matching, Editor's Recommendations, Chat etc., to speak to Exhibitors via our platforms in order to plan and prepare for procurement.
Number of Exhibitors: 879 Physical Show Exhibitors +24 Virtual Exhibitors from 20 countries/regions (All Physical Show Exhibitors automatically entitled to exhibit at the Online Show)
Total Registered Visitors: 16,098

*

from 72 countries/ regions
Total Pageviews of Online Show Official Websites: 70,810

*
Visitors Purpose of Visit *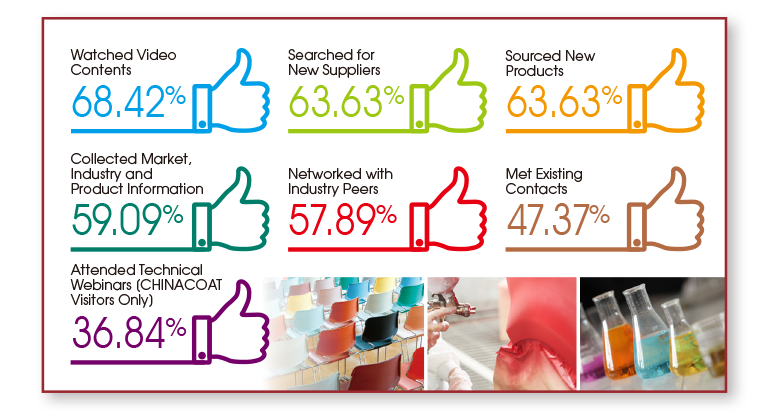 Top 10 Most Searched Products or Keywords

Online Technical Programmes
Technical Webinars

Due to cancellation of physical exhibition, CHINACOAT2021 Technical Seminars were held online instead. Exhibitors, including Kastar, Nouryon, San Nopco and VENCOREX delivered presentations about their latest products, technologies and industry trends. Click HERE to learn more.

Exhibitors' Live Broadcasts

For the second straight year, CHINACOAT2021 Online Show featured a series of Exhibitors' Live Broadcasts presented by Virtual Exhibitors. 30 live sessions were held on March 2-3 2022 in interactive format, with exhibitors presenting their corporate competence, featured products, innovative technologies / solutions, etc. in live setting. Click HERE to learn more.
CHINACOAT2022 will return to Guangzhou, P.R. China on December 6-8, 2022 at Area A of the China Import and Export Fair Complex (Canton Fair Complex). Let us partner with the industry to move forward. Welcome to exhibit/ visit!
Note: Figures with (*) above are CHINACOAT and SFCHINA combined data.