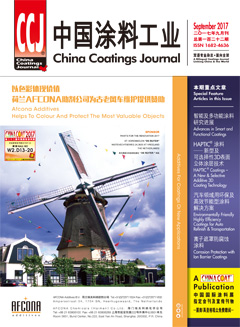 CURRENT ISSUE
September 2017
PUBLICATION DATE
September 15, 2017
Content
Editor's Note
Additive Manufacturing for Coatings Industry?
— Prof. Long Lin
Whilst all papers in this issue are of high technical quality and interesting, the paper entitled "Haptic Coatings – A New & Selective Additive 3D Coating Technology" excited me more than the rest. Those who know me well are aware that I have long advocated the huge potentials of additive manufacturing technology.
Market Watch
Advances in Smart and Functional Coatings
— Prof. Jamil Baghdachi, Coatings Research Institute, Eastern Michigan University, USA
Traditionally, the primary functions of coatings are to protect and decorate substrates. More recently, growth has occurred in research and development and commercial product creation of coatings, which have novel functions in addition to having traditional protection and decoration properties. These coatings are often referred to as Smart and Multi-functional Coatings.
HAPTIC® Coatings – A New & Selective Additive 3D Coating Technology
— Thomas W. Schmidt, Xing-Sheng Jiang, Huafeng, Huangshi Ind. Dev. Zone, Putian, China; Li Chuan Lillian Tseng, Graduate Institute of Management, National Taiwan University of Science and Technology, Taipei, Taiwan
A new and selective additive 3D coating technology was developed and implemented for mass production. Besides attractive visual design opportunities, a strong focus is on the touch experience of the final products. HAPTIC perceptions can be controlled by application of selective multi-layer 3D textures, by the shape and thickness of these 3D textures, and by the coating formulation itself. The coating formulation can be fine-tuned to achieve soft-touch nubuck-like effects, as well as smooth, slippery, sticky effects or rough sandpaper-like effects. Via combination with attractive colours such as metallics, colour shifting or thermochromic colours and finishes with controlled matte or glossy surfaces, a huge freedom of design is afforded.
Functional Coatings
— Futao Cheng∗, Jing He, Yongjuan Zhao, Yaju Guo, ∗Dispersions and Resins (ED) R&D centre, Asia Pacific, BASF
As a leader in chemical and coating markets, BASF continuously strives to develop advanced materials combining not only fundamental properties but also key values to application processes, end-users and the environment including: reducing VOC while maintaining the performance in a smart way to benefit both environment and end users; fast dry solution to improve efficiency via saving energy, improving productivity and optimising manpower; water-based monocoat is another environmentally friendly and efficient technology replacing traditional multi-layers coating facilitating reduction of material consumption and streamlining processes and manpower. With an increasing level of environmental awareness in the industry and the societies, the requirements of coatings have become more diversified and stringent. Waterborne technology, high solids for topcoat, and decreasing cost and energy consumption are regarded as the key trends.
Insider View
Direction Towards Low Pollution Level, Waterborne, High Solids & Powder Technology
CCJ is honoured to have the opportunity for an interview with Zheng Wei, Senior Manager of T-Bright (Jiangsu) New Material Technology Co., Ltd. who shares his views on the improvement of intellectual property protection and patent filing service system, and explains to us the importance of research projects with universities and small/medium enterprises.
Protective Coatings
Corrosion Protection with Ion Barrier Coatings
— Jianguo Wang, Sue Wang, AnCatt Co., USA
The combination of an anion-barrier coating with a cation barrier coating is suggested to be an ion barrier anticorrosion coating. Salt fog exposure and electrochemical impedance spectroscopy (EIS) tests indicate that an ion barrier coating system provides better corrosion protection to cold roll steel (CRS) panels than commercial epoxy zinc-rich as well as epoxy zinc phosphate coating systems.
UV-Curable Coatings
Hybrid Non-Isocyanate Urethane Acrylate UV-Curable Coatings
— Oleg Figovsky, Hybrid Coating Technologies, Inc., USA; Raisa Potashnikova, Alexander Leykin, Leonid Shapovalov, Polymate Ltd. – International Nanotechnology Research Center, Migdal HaEmek, Israel
Hydroxyurethane compounds (HUCs) were synthesised via a non-isocyanate route from the reaction of a monocyclic carbonates with primary amines. The HUCs further were used as a nonreactive composite additive for (meth)acrylic radiation curable compositions. The nonreactive composite additive include a biobased HUC and a silane-based HUC. The new UV curable polymer base compositions were tested in conjunction with a cement-based first layer, which is a transition layer between the polymer top layer and floor or roof structure.
Dispersion Technology
Conti-TDS - A New Dispersion Technology in Lacquer and Paint Production
— Dr.-Ing. Hans-Joachim Jacob, Process- and Application Engineering, ystral gmbh, Germany
Dissolvers were invented in the middle of the last century and have survived in lacquer and paint production until today. They have too many disadvantages, limitations and negative effects on final products. YSTRAL′s Conti-TDS - a new and advanced dispersion technology - has started to displace traditional high speed dissolvers in lacquer and paint production. This new technology enables enormous reductions in production costs and process times. Additional effects are a higher degree of dispersion, improved quality and raw material savings. The energy consumption is reduced to about 30% compared to the old dissolver technology.
New Materials
New Coating Resins via SASC Polymerisation (Part 2)
— Hui Yu, New Functional Polymers LLC, USA
In this report, the SASC polymerisation, synthesis process, properties and potential application of NBR for coating industry will be presented.
Regular Columns
Product Literature
— BYK-DISPERSANT-2080∗ & BYK-DISPERSANT-2081∗ : wetting & dispersing additives for aqueous systems
— New Dow Corning® EA-5151 Quick in Connect (QiC) Adhesive formulated to accelerate electronic assembly & increase production throughput
— Axalta introduces Syrox waterborne refinish coating brand to China
— X-rite introduces Ci7860 benchtop spectrophotometer
— Hempel launches new fast drying coating to deliver optimised productivity
— Grinding system NEOS from NETZSCH: performance & efficiency - more than a step ahead
Industry News
— WACKER expands technical centre in Dubai and includes two new labs for polymers and silicones applications
— Clariant Catalysts expands in China with opening of new office in Yinchuan
— BYK builds a new integrated site in Shanghai
— PPG completes colourful communities project at Shanghai Middle School
— Merck opens new application laboratory in Shanghai
— Huntsman completes expansion of amines capacity in Singapore′
— Sasol breaks ground on new alkoxylation production facility in Nanjing, China
— AkzoNobel adds golden touch to China′s high-speed train technology
Trade Shows & Forums
Advertisers' Index