NOTES FOR VIRTUAL SHOW
1. Virtual Show is to be held from December 8, 2020 to February 6, 2021.
2. Visitor Registration will be closed at 12:00 noon on January 29, 2021.
3. Visitors holding valid Login and Password can access both CHINACOAT and SFCHINA Virtual Shows.
4. Note that each login is strictly personalized and can only accommodate one login at a time. If you and your colleague(s) wish to visit the Virtual Show at the same time, he/ she will have to register individually.
5. In case you encounter any problem during registration, email to: vr@sinostar-intl.com.hk.
6. Visitors successfully registered before 1 December will automatically be registered to CHINACOAT and SFCHINA to be held in Guangzhou on Dec 8 – 10, 2020. However, Visitors must undergo one additional step to register under real-name authentication system and schedule their visit in advance.
According to the requirements of the Chinese Government about infection prevention, all Visitors must register under real-name authentication system and schedule their visit in advance. Moreover, Visitors should bring their original and valid ID Cards / travel documents for onsite verification. Otherwise they will not be admitted to the Venue.
Successfully pre-registered Visitors will receive an E-Pass with QR Code. Visitors from inside China can simply enter exhibition halls by scanning the QR Code onsite. There is no need to print Visitor Pass (Paper Badge) as before.
Successfully pre-registered Visitors from Overseas, Hong Kong and Macau SARs, and Taiwan Region have to present their valid travel documents at the onsite 'International Visitors Counter' for verification before receiving a printed Visitor Pass for admission.
Note that visitors are required to have their body temperature and Suikang Code (i.e., Guangzhou Health Code, please apply for the code in advance) checked before entering exhibition halls. Please wear masks at all times.
VIRTUAL SHOW REGISTRATION FEES & WAIVERS
1. Visitors from Overseas, Hong Kong SAR & Taiwan Region: US$25.00. Via PayPal Payment Platform to complete payment and receive e-payment receipt.
2. Visitors from inside China & Macau SAR: RMB¥180.00 per person. Via Alipay/WeChat Payment Platform to complete payment and apply for electronic VAT invoice (Fapiao).
3. Join Business Matching Programme to waive Registration Fee - Fill in and submit a one-page Form and the Organiser will assist you to identify and locate your targeted exhibitors to facilitate your networking and procurement. Those who joined the Programme will have their Registration Fee waived.
4. Visitors with "Invitation Code" will be granted one free Virtual Show Login Account.
5. If the online payment platform is not available in your country/region or you wish to pay the Registration Fee by International Wire Transfer, click HERE for details.
NOTES FOR WECHAT REGISTRATION
1. Online Visitor Registration Fee: RMB¥180 per person (excluding visitors with "Invitation Code" or those who joined the Business Matching Programme)
2. Note that a Chinese mobile number is required for verification during registration process.
3. Scan QR code below or search for our official WeChat Account "Chinacoat_SFChina" for Visitor Registration via WeChat and to receive latest exhibition information.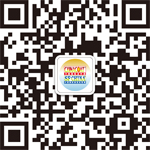 REGISTRATION PAYMENT VIA INTERNATIONAL WIRE TRANSFER
1. Note that you are required to cover both an international wire transfer fee charged by your bank AND an inward remittance fee per each money transfer from abroad required by our bank.
2. The example below shows the amount required for Visitor Registration to be paid by international wire transfer:
| | |
| --- | --- |
| [a] | Registration Fee = US$25.00 |
| [b] | Bank Transfer Fee = US$50.00 |
| [c] | Total Amount to be Remitted = US$75.00 [a] + [b] |
3. Remit the Registration Fee or submit a valid payment record to vr@sinostar-intl.com.hk within 3 days after registration in order to complete the registration process.
4. After completing payment, email the scanned copy of the international money transfer application to vr@sinostar-intl.com.hk with your Full Name and Company Name.
5. Email to vr@sinostar-intl.com.hk for our bank account details for international wire transfer.