To assist Exhibitors to prepare for the show and plan their pre-show promotion strategy, the Organizer produces the 'Exhibitor Manual'. We strongly recommend Exhibitors to read the Manual immediately and thoroughly to learn about all essential information of the Exhibition. We shall appreciate if Exhibitors can fill out all necessary Forms and return them to us or to our service providers on or before the stated deadlines to prevent any possible delays.
Attention:
The 'Exhibitor Manual' is only available in PDF format. Please download the PDF version and print from your own printer if you wish to have a print version.
User ID and Password have been provided to Exhibitors by email and by post together with the Exhibit Contract. If Exhibitors would like to retrieve their User ID and Password, please contact the Organizer by email: service@chinacoat.net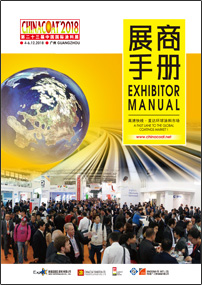 EXHIBITOR INVITATION CODE
Exhibitors can send their designated 'Exhibitor Invitation Code' to target customers for them to pre-register free-of-charge on our official website or WeChat platform before November 16th. Please login to the online 'Exhibitor Manual' with your User ID and Password sent to you previously, and obtain your designated 'Exhibitor Invitation Code'.
The 'Final Reminder' will be sent to Exhibitors by email and uploaded to the Official Website to acknowledge all important information of the show 3-4 weeks before show opening. We shall greatly appreciate if you can take some time to read it carefully, and make sure all your key personnel attending the show will read this Reminder too to avoid unnecessary confusion.